Crisbaby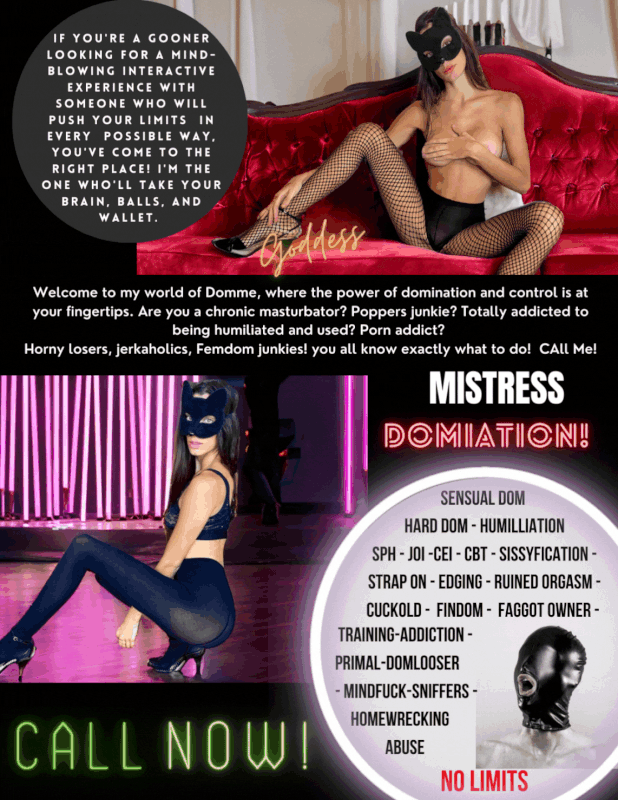 ROLE PLAY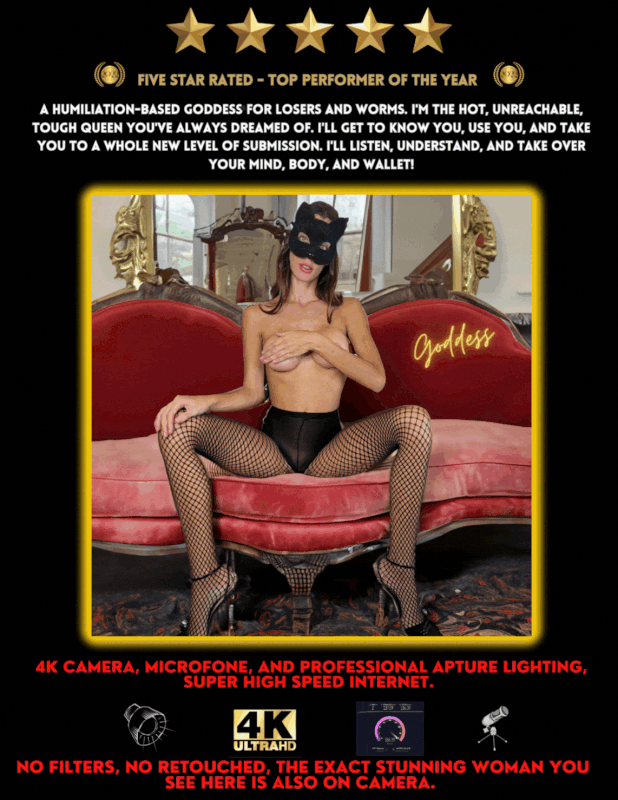 Welcome to my world of Domme, where the power of domination and control is at your fingertips. I am a professional #dominatrix #model #mistress, here to take you on a journey of sensual exploration and pleasure. As your #goddess, I will guide you through the art of #submission and push your limits, but always with your consent and safety in mind.
The best in #SPH (small penis humiliation) and other forms of #humiliation, #CBT, #JOI, #CEI, #FINDOM, #Role play, #Sissy training, #Anal training, F Bi, #Cuckolding, #ATM, Sensual #Domme, Hard Domme, #Strapon, #Edging, Ruined orgasm, #Addiction… All and endless ways of control… but always with a focus on pleasure and mutual respect. My goal is to provide a unique and fulfilling experience for all my subs, whether you're new to the world of domination or a seasoned pro. I also offer CEI (cum eating instruction) as well as mind control techniques to make you feel small, weak, and submissive, while I assert my dominance over you.
I'll take control and show you the true meaning of submission. Are you ready to submit to the will of a goddess? During our show, you will be under my complete control, and I will use my powers of domination to push you to your limits. You will be humiliated, degraded, and made to feel inferior, all while I relish in my role as your superior. But don't worry, you will also be rewarded for your obedience and submission, with the pleasure of serving a powerful and beautiful goddess like myself
Call me now!
Lovely pink hard nipples, big ass, young and fit! Videocall with professional equipment.
⭐️⭐️⭐️⭐️⭐️ Check out my five star rating and reviews to se how do I perform, Ill make all your dreams come true⭐️⭐️⭐️⭐️
**Just love doing this! exploring sex! I'm open-minded to all types of sex, and my body has very few limits... I'm the hot, sweet and compliant girl you always dreamed of.
A princess with an alpha personality. If you are a pathetic worm, into humiliation, these are the shows that I own, I'll be happy and horny to dom, and abuse you. I'll get to know you, use you, and take you to a whole new level of submission. I'll listen, understand, and take over your mind, and body!
REGULAR SHOWS AVAILABLE AS WELL
I am very creative and flexible about my shows just feel free to share your fantasies .****
---
**What we can do❓❓
✅ Role play
✅ Be watched 
✅ C2C
✅ Use controllable toys such as  Lush 
✅ Sloppy blow job
✅ Cock rating
✅ Play with feet, suck thums…
✅ JOI Jerk off instructions
✅ CEI Cum eating Instruction
✅ SPH Small Penis humilliation
✅ ATM Ass to mouthRole play 
✅ Play with my pussy
✅ Play with toys in my pussy or ass
✅ Blow job on the toys (also deep throat and sloppy)
✅ Cum swalowing, and plying in mouth, spitting cum and eating back.
✅ Cum swalowing, and plying in mouth, spitting cum and eating back.
✏️✏️ Double penetration
✅ Baby oil on my boobs or ass
✅ Spanking 
✅ Girlfriend Experience
✅ Mutual masturbation and cum
✅ Dirty talk
✅ Striptease 
✅ Twerking
☄️ Anal play
✅ Different lingeries, dresses, toys
✅ Cum Swalow and mouth playing (Under request)
INTERACTIVE TOY
 ❣️And I accept any special requests❣️

adultshows #webcammodel #camgirl #onlineshows #virtualshows #adultentertainment #privateshows #onlinemodeling #livestreaming #adultperformer
All the best Skype cam models in one place
Choose your favorite from more than 847 online cam models on Skype right now!